Last Updated: August 7, 2023

Move-In Day Arrival Instructions
On your assigned move-in day and check-in time, plan to arrive at either Parking Lot 15 (P15) or Parking Lot 17 (P17) based on your building assignment. Do not proceed directly to your assigned building as you will be redirected to P15 or P17.
Aztec Corner
Chapultepec
Essential - Building 3
Granada
Huaxtepec
Huaxyacac
Metepec
Mixquic
Piedra del Sol
South Campus Plaza - North
South Campus Plaza - South
Tarastec
Toltec
Univeristy Tower
Viva
Zacatepec
Zapotec
Maya & Olmeca
Tenochca
Tepeyac & Tacuba
Villa Alvarado
Zura
M@College
M@college residents are the exception, please proceed directly to M@College on move-in day.
Welcome Home
Welcome home! We are thrilled to welcome you to your new home at San Diego State University. Please become familiar with the information on this page to assist you in preparing for move-in day.
Important Dates
Early July: Students will receive an email (to their @sdsu account) with the following assignments:
Move-in date
Building
Room type
Bed size
Meal plan (if applicable)
Learning community (if applicable)
Early August: Students will receive an email (to @sdsu account) with the following additional information:
Check-in time assignment
Roommate information
Specific move-in instructions for arrival
August 16: Sophomore & upper-division student move-in day.
August 17 or 18: First-year student move-in day. First-year students will be assigned either the August 17 or August 18 move-in date in their housing assignment email sent in early July.

August 17 & 18 - West Side Welcome: Aztec Recreation Center Plaza will feature music, games and fun! Belinda's Cocina & Brick Oven Pizza will have food available for purchase. Meet campus organizations and take a tour of the ARC!

August 17 & 18 - East Side Welcome: Cuicacalli Walkway will feature music, campus organizations and fun! Stay cool with free Kona Ice on Friday, Aug. 18.

7 p.m. on your Move-In Day - Community Meetings: All Residents
At 7 p.m. on your move-in day, make sure to attend your community-wide meeting! Your Residence Hall Coordinator will be covering important information to make this a great and safe year. This will take place virtually on Zoom, so check in with your Community Assistant (CA) or Resident Advisor (RA) for the link to attend.

August 19 - Floor Meetings: For First-Year Students Only
Attention all first-year residents! Your Resident Advisor (RA) will be hosting your floor meeting on Saturday, August 19, in the afternoon. This is an important meeting to establish community living expectations and review information regarding Convocation. Check-in with your RA for the exact time and location of your meeting.
FAQ
Students are assigned a specific move-in date and check-in time based on their building assignment. Move-in date and check-in time assignments will be staggered to facilitate traffic. Move-in date assignments will be emailed early July. Please wait to make travel plans until you receive your move-in date assignment.
Yes. Each student may be accompanied by family members and guests to assist with move-in.
In early August, you will receive an email with specific instructions for unloading, check-in and parking on your assigned move-in day.
What to Bring
Download the Move-In 2023 Checklist for a complete list of what to bring.

Bed Height Guide
Download the 2023 Bed Height Measurement Guide to learn about the amount of space under the beds in your building .
FAQ
Cooking appliances such as rice cookers, toasters, toaster ovens, slow cookers, popcorn poppers, air fryers, and instant pots may only be used in apartment kitchens, Tepeyac & Tacuba kitchenettes, or community kitchens. They are not allowed in resident rooms.

Space heaters, barbeques, portable stoves, hot plates, portable air conditioners, and electric water coolers are prohibited in all on-campus residential communities.
No, a mini-fridge with a freezer and microwave is provided in each first-year room. Students are not permitted to bring an additional mini-fridge.
Yes, but coordinate with your roommate(s) in case they are planning to bring one as well.
First-Year
First-year buildings have Twin XL sized beds.
Sophomore & Upper-Division
In sophomore and upper-division buildings, bed sizes vary. Please wait for your assignment email (sent early July) prior to purchasing bedding. Your assignment email will include your building and bed size information.
Hall Essentials
SDSU is partnered with Dormify, your one-stop-shop for everything for your living space! Dormify offers a wide selection of residential essentials such as bedding, storage and decor. Through Dormify, you can ship your order directly to your home or ship your order to campus for pick up on move-in day at your building's designated UPS Store.
For UPS pick up on your move-in day, all orders must be placed by August 4, 2023.
shipping services
SDSU is partnered with Collegeboxes to make move-in as easy as possible. Collegeboxes will pick up items from your home and deliver them directly to your room on campus. If you would like to take advantage of this great service, go to collegeboxes.com and use the discount code SDSU2023 for 10% off of your Ship to School order.
Please note: When entering your information on CollegeBoxes be sure to include the student's full name and building assignment (if available at the time of order). The building assignment and room number is not required to ensure successful delivery, as we will match the student's name with their housing assignment.
Supply kits can be ordered from Collegeboxes today!
The deadline to order supply kits from Collegeboxes is July 20, 2023.
The deadline to ship boxes to campus for move-in delivery is July 31, 2023.

Immunization Requirements
San Diego State University is committed to the protection of health and wellness of all students. To comply with this goal, students are required to provide documentation of COVID-19 vaccination in accordance with the university's Immunization Policy.
All new Fall 2023 students must submit their immunization records by July 15, 2023 to avoid a hold on their Spring 2024 registration.
COVID-19 Vaccination Requirement
Upload your COVID-19 vaccination and booster records to HealtheConnect. For new students, your records must be uploaded by July 15, 2023.

Medical or Religious Exemptions
COVID-19 vaccines are required for all students, with the exception of those that have been approved for a medical or religious exemption by the university.

COVID-19 Testing Requirement Discontinued
Public health officials in the United States and with the World Health Organization are reporting declines in COVID-19-related deaths, hospitalizations and intensive care unit admissions. Agencies are also reporting high levels of population immunity to SARS-CoV-2. Given improved local and national conditions, residential students will no longer be required to complete COVID-19 testing prior to or following move-in.
COVID-19 testing will remain available in the vending machine at the Calpulli Center. Additional updates regarding other testing availability for fall will be shared with the campus community this summer.
Home rapid test kits continue to be available for purchase at the Student Health Services Pharmacy.
For additional information, please visit COVID-19 Information for Residents.
SDSUcard
Your SDSUcard will give you access to your building entrance, laundry services, meal plan and more.
Step 1: Order
Download the GET mobile app, create an account with your sdsu email address and upload a passport style photo and acceptable form of ID (see below) for your card by June 26, 2023 to be ready for pick up on your orientation day.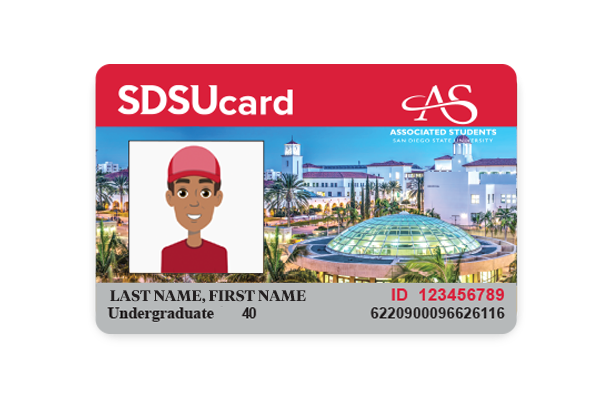 Step 2: Pick Up
Pick up your card at check-in on your orientation day. For questions, please email the SDSUcard office at [email protected].
Please note: You will need to have your SDSUcard in order to check-in on move-in day.
Acceptable Forms of Identification:
U.S. State IDs, U.S. Driver's License, U.S Passport, U.S. Temp Driver's License with photo, U.S. Law Enforcement ID, Department of Justice ID, Department of Homeland Security ID, and Department of Treasury ID.

Parking & Transportation
for first-year students:
In support of sustainability initiatives, incoming first-year who live on campus will not be permitted to bring a car the first year of study at SDSU. To assist students who may have unique needs, first-year students with documented hardships are able and encouraged to apply for a waiver. For more information, please visit the First-Year On-Campus Resident Parking Policy.
Sophomore, Upper-Division & Grad Parking
Aztec Corner, Granada, Piedra del Sol, The Tecs, & Viva
Students residing in Aztec Corner, Granada, Piedra del Sol, The Tecs and Viva may reserve parking at their residential community. Parking permits for the 2023-24 academic year will be available starting July 7, 2023.
South Campus Plaza, Tepeyac, Tacuba, Villa Alvarado
Students residing in South Campus Plaza (sophomore and upper-division students only), Tepeyac, Tacuba and Villa Alvarado may purchase a student overnight SDSU parking permit for the campus parking structures.
M@College
Incoming residents wishing to purchase a parking permit at M@College for the August 2023 - July 2024 leasing term should email Trent Martin at [email protected]. In the email, please include your first and last name, phone number, and your unit and bed assignment at M@College. At this time, only tandem permits are currently available, but residents can request to be added to the waitlist for single permits by emailing Trent at the address above.
Essential - Building 3
Incoming residents wishing to purchase a parking permit at Essential for the August 2023 - May 2024 leasing term should email Sonia Ray at [email protected]. In the email, please include your first and last name, phone number and your room assignment at Essential. At this time, only tandem permits are currently available, but residents can request to be added to the waitlist for single permits.
transportation
Students may also consider alternative modes of transportation to having a vehicle on campus.
Take the San Diego MTS bus and trolley systems conveniently from the SDSU Transit center on-campus. Use your smartphone pass for discounted transit trips via the Aztec Parking Portal.
Take advantage of other rail student discounts on MetroLink and Amtrak for trips throughout California.
E-Scooters can now be found along the periphery of SDSU's campus to help assist in your mobility needs! Rides start at just $1 (with a min charge of $3.50), and may take place outside of the new geo-fence (red lined zone below).
SDSU has partnered with Lyft and Uber and has established set pick-up/drop-off points at key locations on campus for your safety.
SDSU has also partnered with Zipcar, a car sharing service available to students 18 years and older. Membership starts at just $15.
More information can be found at SDSU's Commuting & Transportation page.
*Additional move-in information will be shared in the coming weeks. Please continue to check this page regularly.
Bike & Surfboard Storage
Covered bicycle and surfboard storage is available on campus at no additional charge.
Bicycles: Bicycle storage is available on a first-come, first-served basis. Beginning August 7, please submit your interest in bicycle storage via the Bicycle Storage Form. Once you have completed the form, please visit the Bicycle Storage Tent during move-in to pick up your storage key. The Bicycle Storage Tent will be located on Cuicacalli Walkway from 8 a.m. - 3 p.m. on August 17 and 18. You must register your bicycle with University Police. Bicycles are not allowed inside suites and apartments.
M@College: Bicycle storage is available with your key fob on the first level (P1) of the parking garage near the elevator.
Essential: For access to the bicycle storage, please register your bicycle at the front desk, located in building 2. You may also register via email by sending a picture of your bicycle to [email protected] or [email protected].
Surfboards: Beginning August 7, you may submit interest in a surfboard locker via the Surfboard Storage Form. Due to limited availability, surfboard lockers will be assigned by lottery. Surfboards may also be stored in rooms.
Renter's Insurance
Students are responsible for any damages to the residential communities. We encourage parents and families to contact your insurance provider to learn more about renter's insurance options or to see if your current homeowner's policy will provide any coverage for your student.
If you are interested in purchasing renter's insurance for your student, SDSU is partnered with GradGuard. GradGuard offers renter's insurance coverage as well as protection for personal property, including electronics. GradGuard is $165.40 annually and covers the following:
Property: $5,000
Liability: $100,000
Deductible: $100

Your student may opt into GradGuard in the Housing Portal. For additional information, visit gradguard.com.


Connect With Us
For all the latest news and updates, follow SDSU Housing on Facebook @SanDiegoStateHousing and on Instagram @SDSU_Housing.